Starting any new initiative is not without its challenges, but launching an Arts Award programme in the year of a major economic downturn presented obstacles that were often hard to negotiate. Having set up The Marshwood Arts Awards and gathered a group of selectors to look at submissions for the 2008 exhibition, we had hoped to run it on a biannual basis. However, the inevitable knock-on effects of the 2008 economic turmoil had a devastating effect on small businesses like ours, so it took a few years to get the Awards up and running again. These awards are unfunded and the submission fees are designed to cover costs with the balance going as prizes for the winning artists.
After a slightly rocky start, we ran the exhibition in 2013, 2015, 2017 and 2019 before the Covid pandemic made it difficult again. This year we are delighted to be relaunching the Awards, especially with such fantastic selectors as Kate Malone, Don McCullin, Fru Tholstrup, Mike Kus and Andrew Logan.
What keeps us going is the joy of hearing from so many of the over 100 artists and makers that have featured in the Marshwood Arts Awards exhibitions in the past. In the face of such trying times for everyone – with artists and makers especially hit by an unsupportive government and economic belt-tightening – it is wonderful to hear their positive experiences since they exhibited with us.
Ceramicist Bjork Haraldsdottir, whose work was selected in 2017 and 2019 and won the John Hubbard Prize, now exhibits regularly at places like the Collect International Contemporary Craft and Design Fair at Somerset House; at the RWA in Bristol; at Messums in Wiltshire and Cork Street and in various galleries from Falmouth and St.Ives to Liverpool and Edinburgh. Bjork describes The Marshwood Arts Awards is 'a great platform for artists in the South West and particularly for emerging artists as a springboard to wider recognition.' She has since been commissioned to create a major work for the Architecture Room at the Royal Academy Summer Exhibition and says that 'Established platforms such as the Marshwood Arts Awards, as well as grassroots arts initiatives and self-promotion media such as Artist Support Pledge are important showcases and essential stepping stones.'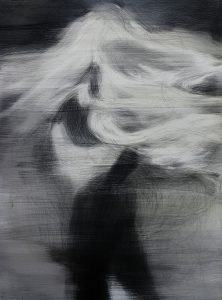 South Korea-born Jione Choi, an artist who now lives and works in London says that all of her 'career achievements stem from Marshwood Arts Awards.' Chosen by selector artist Dave White in 2019, she has gone on to win the RWS Publicity Prize from the Royal Watercolour Society and also won first prize from ArtGemini Prize 9th edition. In 2022 she won the Signature Art Prize 2022 in the Drawing & Printmaking Category.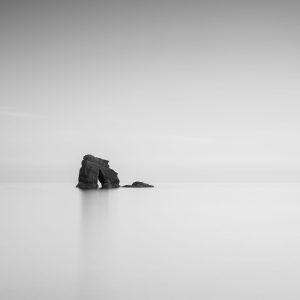 Photographer Paul Carruthers remembers his 'great experience with The Marshwood Art Awards.' He has since gone on to win International Photographer of the Year at the Head On Photo Awards in Australia and also took Second Place in the prestigious Fine Art Photography Awards.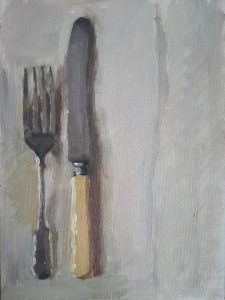 Lotta Teale, another artist selected by Dave White, has gone on to enjoy gallery representation in 'four UK galleries, including one in Mayfair, all of whom I feel extremely proud and honoured to be with.' She explained that The Marshwood Arts Award was one of the first exhibitions her work appeared in and said: 'I found it extremely encouraging both to be included in the selection and to see my work up surrounded by all sorts of other pieces I admired. I feel it gave me more confidence that my work was up to that level, and I was very grateful for having been included.'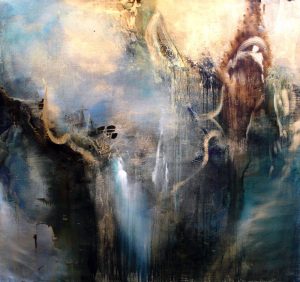 Artist Fernando Velazquez, who exhibited in 2013 believes The Marshwood Vale Awards are key in the art scene in the South West and says: 'to be considered and exhibited amongst talented artists is a real privilege. Since my participation in the 2013 show, I have exhibited in London, Krakow, Bogota, Madrid, Milan and Venice.' He has also won the Artzine International Art Prize in the abstract category and has shown at the Saatchi Gallery in Kings Road, London. He says: 'Art is key in moments of crisis and the support from The Marshwood Vale Awards is particularly meaningful for its quality and its physical presence.'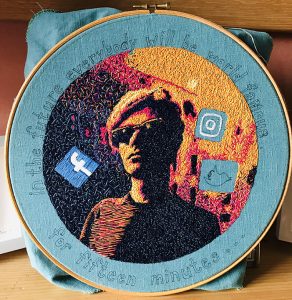 Textile artist Clare Mort recently shared a photograph of Grayson Perry enjoying her work saying: 'Such a lot has happened since I won the Applied Arts Award at your amazing show.' She has exhibited in many places including the ING Discerning Eye exhibition and the Royal Academy. 'I was included in the BBC documentary for the Summer Show in 2021 and was lucky enough to be selected' she said. She has also been a finalist in many other shows but a real highlight has been doing 'radio shows, talks at groups and to be featured in fabulous magazines.'
One of the highlights since exhibiting at The Marshwood Awards for ceramic sculptor Babs Kirby was 'being asked to bring one of my totem poles to be filmed as part of the The Great Pottery Throwdown series and making Keith Brymer Jones cry.' She has exhibited with Westcountry Potters at the RHS Rosemore Gardens in Devon and has just recently returned from the International Ceramics Festival, held in Aberystwyth.
Artists such as Jason Sumray, Lotta Teale and Jill Mugliston pointed to the boost in confidence that The Marshwood Arts Awards gave them, while print artist Cameron Short described it as 'a real fillip' for him at the time. Jim Hunter told us he went on to be accepted as a full member of the Royal Watercolour Society which allows him to exhibit regularly at the Society's Bankside Gallery in London. He now serves as Vice President of the RWS. Jim said he was 'grateful for the opportunity and recognition that came with my participation in the 2017 Marshwood Arts Award and the John Hubbard Prize.'
It is gratifying to hear that producing a programme like The Marshwood Arts Awards has had a positive effect for so many artists, especially at a time when art and culture appear to be under threat from a lack of support. In fact that lack of interest from government has been a recurring comment from many of the artists and makers that we recently spoke to. We will be looking at those thoughts in a future news update.
In the meantime, we are excited to see the submissions for the 2023 Awards. The deadline for entry is August 18th 2023.
Click the 'Enter' button for full details.